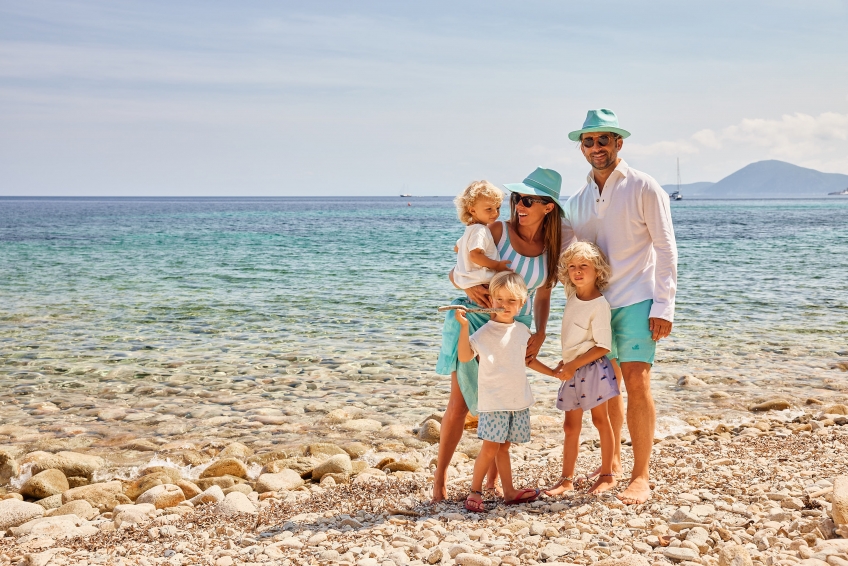 Accessories by Acqua dell'Elba, The Elegance of a Timeless Summer
The meeting point between the freedom of an experience in nature and our need to feel at home, secure and surrounded by cosy sights, among scents that mix with the fragrance of the sea without overwhelming it entirely: this is what Acqua dell'Elba accessories stand for, textiles which envelop your skin, elegant objects in the Made in Italy tradition, intended to make your summer unforgettable whilst protecting you from the sun, the salt, and the wind.
For the wellness of your skin and hair, our special co-branding "Doria 1905 Sails with Acqua dell'Elba" created a pair of iconic beach hats called "Innamorata" and "Sansone", both inspired by the nature of Isola d'Elba, the first – for her – by a heavenly shore, enshrined in legend, and the second – for him – by a beach among the most beautiful and representative of the whole Tuscan island.
Innamorata is a timeless "Drop" model featuring a drop-shaped dome with a wide brim made of a very light pure linen weave of the colour Pantone, the symbol of Acqua dell'Elba, with a white cotton piping to highlight its freshness. Sansone is a classic beach hat of the model "Drop", with a mid-size brim typical of the house Doria, with an internal ribbon as blue as the sea, bearing the logo of the two brands printed in gold by hand, a detail which makes it unique and personalised.
Then there are our beach textiles, another "must" of the summer of Acqua dell'Elba: a timeless season to be experienced comfortably, without renouncing your style.
Wave meets sand, one foot behind the other, sinking among the fine, warm grains: water is refrigeration for the body and the mind; feet meet the seabed, inundated with freshness. This is the moment when your gaze returns to the beach, looking for a familiar object, a double-twisted cotton thread towel in aquamarine colour, to be spread on the beach or draped on a sunchair to protect your skin, or a soft bathrobe, also in the typical Acqua dell'Elba aquamarine colour, capable of drying your skin without feeling heavy.  After swimming, for him awaits the ease of wearing a pair of light linen Bermuda shorts, or the pleasure, for her, of a gauze sarong also in linen: clothing that glances over your skin as a caress, maximising the aspect of your suntan, dyed in indanthrene to efficiently resist sunlight and multiple laundry washes. Perfect accessories for a day at the seaside, blessed by beauty and relaxation.
Finally, for lovers of the two wheels, we offer a travel bicycle featuring a plain yet refined design for him and a romantic and light one for her with vintage rod brakes, as well as a foldable Bermuda model, meant to pedal along the beach filling our minds with sensations and memories. For a timeless summer, not to be forgotten.
---