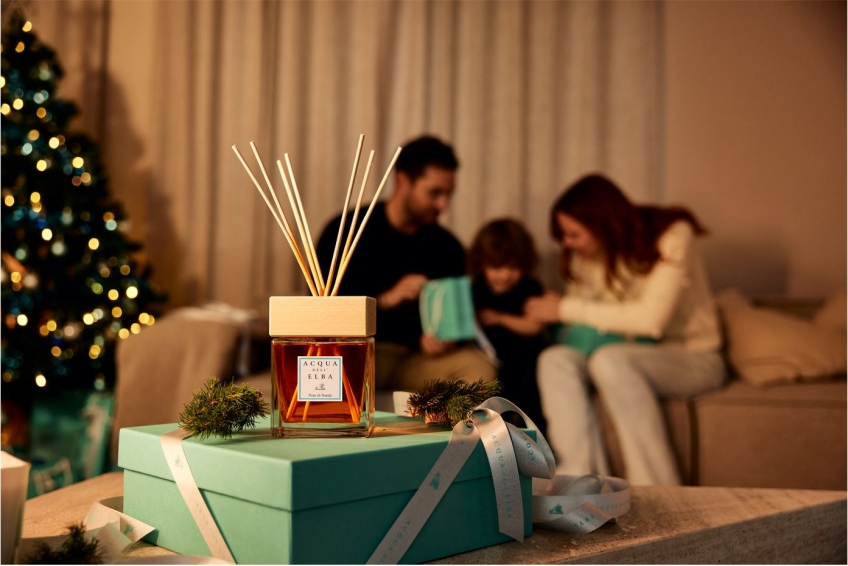 Christmas Morning Smells of Citrus Fruits and Cinnamon with Acqua dell'Elba
Choosing Acqua dell'Elba means choosing the sea, its essences, its atmospheres, its intensity on our skin, and much else. Our artifacts tell a story, that of Tuscany and its craftsmanship, synonym of quality and authenticity, of a return to beauty and tradition. So, why only spend the summer with us? Acqua dell'Elba has a lot to say (and to give) also during Christmas time, a period of the year when values and tradition are indeed the protagonists.
 Sitting together on the sofa next to the Christmas tree, Mum and Dad encourage their kid to unwrap presents: an ancient gesture which unites people and represents something magical, especially for the youngest ones.
 Our elegant aquamarine-coloured boxes, wrapped in a white ribbon, stimulate our fantasy leading it, on Christmas morning, towards the discovery of a gift that carries the scent of the sea and Tuscany. In the air, making this moment even more unforgettable, essences of oranges, tangerines, Scotch broom and jasmine from our "Note di Natale" Home fragrance diffuser, available in its 2500, 1000, 500 and 200 ml formats. With its amber colour, it recalls the warmth of a fireplace whilst filling the atmosphere with magic: this is the Christmas perfume from Acqua dell'Elba.
 The emotion continues with the essences of the "Note di Natale" Room Spray, in the 100 ml format, and the warm light of the "Note di Natale" Scented Candle in its 1260, 425 or 180 g formats, which infuse every gesture with intimacy: the fragrances of honey, cinnamon, walnuts and woods of the Mediterranean Maquis envelop the room as the surprise of finding two or three artifacts in each package, customised with a personal dedication, becomes a celebration in itself. How about you? How will you spend the most magical morning of the year? Send us your snaps, we will publish them right after Christmas!
---