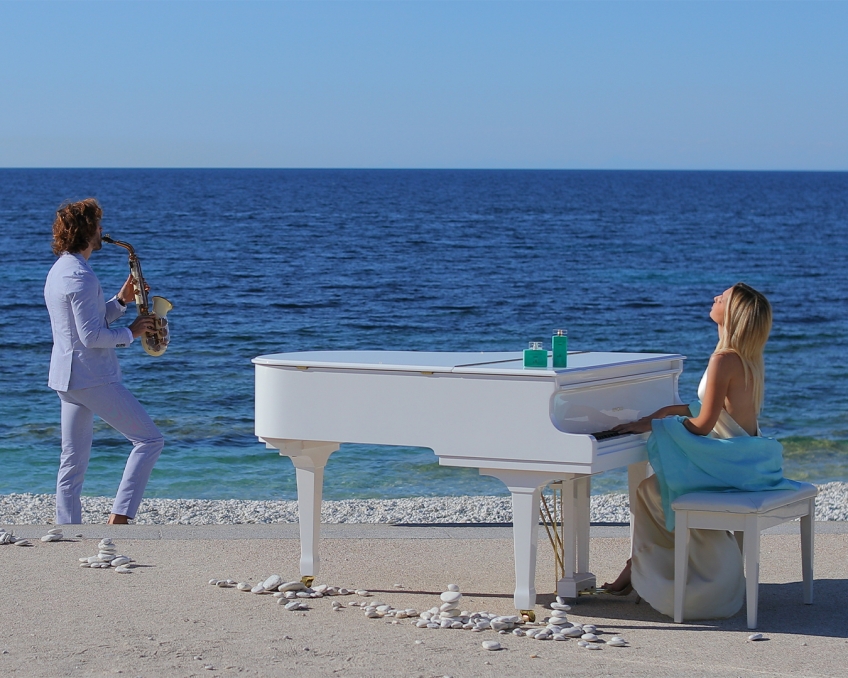 Essenza, the New Eau de Parfum by Acqua dell'Elba
The sea and its thousands of nuances have always been an important element of distinction for Acqua dell'Elba's perfumes. Its colours express all the authenticity, the strength and complicity of our new creation: Essenza. An Eau de Parfum which speaks of Isola d'Elba, a perfume arising directly from the sea to explore new boundaries. An intense, fresh fragrance which rediscovers the beauty of its Homeland, enclosing it in a perfume bottle.
Acqua dell'Elba created a fragrance for women and a fragrance for men, inspired by the scents of the Island. Delicate headnotes of Bergamot, Orange, Sea Lily and Scotch Broom blend with core notes of Jasmine, Magnolia, Orange Tree Flowers, Lily of the Valley, Roses, Tuberose and Pepper, only to tail off with background notes of White Moss, Cedarwood, hints of Amber and woods and resins of the Mediterranean Maquis: this is the Eau de Parfum Essenza Donna.
Head notes of Lemon, Bergamot and Grapefruit blend with core notes of Marine Rockrose, Jasmine, Violet and Geranium forming a perfect union with the intense, spiced notes of Pepper and Sage. Background notes of Marine Algae and woods from Oak, Cedar, Lentiscus and Strawberry trees add even further intensity, harmoniously combining with the rest of the bouquet to form the Eau de Parfum Essenza Uomo.
Essenza is formed by two fragrances, one for men and one for women, further enriched by the painted glass bottles in which they are contained, created by Tuscan artisans in Acqua dell'Elba's classic aquamarine colour.
The Eau de Parfum is available in the 50 ml and 100 ml formats for both men (Uomo) and women (Donna). Its dedicated line is completed by the Moisturising Body Lotion for Women 200 ml, the Hyaluronic Acid Body Lotion 200 ml, the Bath / Shower Gel 200 ml, the Shampoo / Shower Gel 200 ml and the Moisturising Body Lotion for Men 200 ml.
To anchor the Eau de Parfum Donna in an image of strong femininity, we picked pianist Vanessa Benelli Mosell, to be accompanied by the saxophonist of Elban origin Jacopo Taddeias the testimonial of the Eau de Parfum Uomo. Young, talented professional musicians, they were both selected for their creativity and commitment to the values which have always characterised Acqua dell'Elba. A journey to discover all of the notes of the sea, accompanied by an original composition from Jacopo Taddei.
---