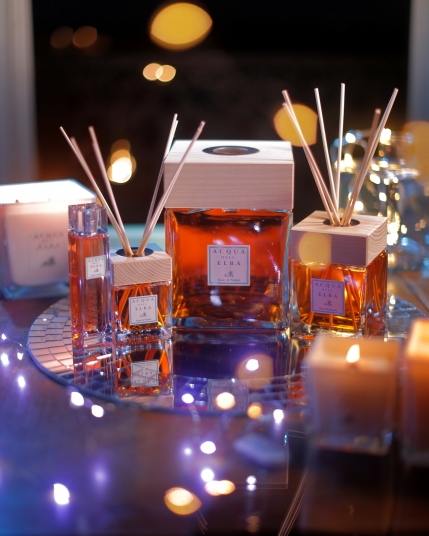 CHRISTMAS IS ALREADY IN THE AIR.
Since some days already (even some weeks in the most extreme of cases), the shop windows of many cities have started embellishing themselves with lights and decorations, and some of the most impatient of us have started decorating our homes with festive baubles, comforted by scientific studies demonstrating that people who decorate their homes for Christmas early on in the season are happier people.
One of the best ways to let the imminence of the Christmas atmosphere pervade your home, your office or your shop is to rely on perfume: Acqua dell'Elba specifically thought about this with a fragrance carrying a suggestive name, "Note di Natale" ("Christmas Notes"), indeed a true symphony of the fragrances which are most connected with the most celebrated holiday in the world.
Within this home fragrance diffuser's bouquet are citrussy notes of oranges and tangerines which, when traditionally dried in the oven to prepare the decorative "pomanders" to be hung in trees, spread an atmosphere of well-being and positivity throughout the whole house.
Christmas also stands for sweetness, provided by hints of honey, nuts and cinnamon recalling to memory those treats prepared in the kitchen together with the kids, as gifts for friends and relatives as well as to be left on the chimney's mantlepiece for Santa Claus. To complete the festive bouquet of "Note di Natale", the flowers of jasmine and Scotch broom combine with woods of the Mediterranean Maquis to evoke the nature and sea of Tuscany, which are always in the heart of those who love Acqua dell'Elba, even during the Christmas holidays.
Available in various formats such as home fragrance diffuser and festive scented candles, as well as spray deodorant, the "Note di Natale" fragrance is an idea which is easily adaptable to the needs of any gift recipient. For an important gift you may choose the customised gift boxes, filling them with all of the products you choose, while for a simpler treat you may consider this year a new gift box containing a 100ml "Note di Natale" mini diffuser alongside another containing one of the  various Acqua dell'Elba home fragrances, together with a mini room spray.
Because every Christmas, whether big or small, always knows how to bring a jolly atmosphere in any home.
---